Photos via Mike Fender
New Orleans running back Mark Ingram enjoys a fun moment with players representing the Saints.
The 66 teams who'll compete in the NFL FLAG National Championship - which runs today through Sunday at ESPN's Wide World of Sports and at Sunday's NFL Pro Bowl in Orlando, Florida - enjoyed an epic pizza party Thursday night featuring 10 Pro Bowlers:
(From left) Tennessee Titans tight end Delanie Walker, Carolina Panthers linebacker Thomas Davis, Tennessee safety Kevin Byard, New Orleans Saints running back Mark Ingram, LA Chargers cornerback Casey Hayward, Kansas City Chiefs receiver Tyreek Hill, Arizona Cardinals safety Budda Baker, Buffalo Bills running back LeSean McCoy, LA Rams running back Todd Gurley (also a U.S. National Team alum) and New Orleans cornerback Marshon Lattimore.
The teams spent time with the Pro Bowl players and various NFL alumni, like Hall of Fame linebacker Derrick Brooks and former Miami Dolphins great Jason Taylor. They also met NFL cheerleaders and mascots, while engaging in media interviews.
The Riddell station was another hit with competitors: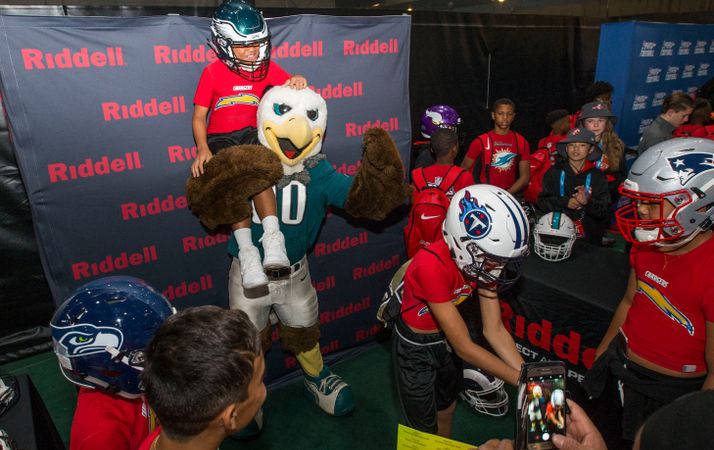 Liatama Uiliata from Hawaii is hoisted on the shoulders of the Philadelphia Eagles mascot.
Teams qualified by winning regional tournaments hosted by USA Football in NFL club markets. Regional tournaments were hosted by the Arizona Cardinals, Atlanta Falcons, Baltimore Ravens, Houston Texans, Indianapolis Colts, LA Chargers, New England Patriots, New Orleans Saints, New York Jets and Seattle Seahawks. Divisions include 9-10 co-ed, 11-12 co-ed, 13-14 boys and 13-14 girls.
Back this year to defend their 13-14 girls title are the Arlington (Virginia) Ravens, an all-star squad led by coaches Mike Rivera and Bart Gray. The unit comes from a league of 1,300 kids, including the largest girls program in the country with nearly 200 players.
"Five years ago, we had 13 girls in the program, so we really set out to grow it," said Gray, Arlington's NFL FLAG commissioner. "These girls play basketball, soccer, lacrosse - very busy, athletic kids. This is a great sport full of lessons they can take with them."
Running back and blitz specialist Sophia Bailey, who Gray called "wicked fast," was encouraged to play flag football by her basketball coach. 
"I was a little hesitant because I knew football as a rough sport, but I knew a lot of friends doing it, got into it and I'm so glad I did, because I've met so many amazing friends," Bailey said. "Football has made me a lot more confident, because we practice against a lot of boys teams. We don't hold back. We go 100 percent."
The Arlington Ravens, who include Sophia Bailey, Olivia Baptiste, Hannah Boone, Azzi Fudd, Brianna Kenealy, Alyssa  Kenealy, Zoraida Icabalceta, Shea Messman, Kira Dann and Isabel Zamer, were befriended by Sean McCoy, son of Pro Bowler LeSean McCoy, at Thursday's event.
Other unique stories include:
• The T.T. Cardinals 13-14 girls team from Peoria, Arizona, coached in part by Trenton Bourguet, a 17-year old high schooler who won an NFL FLAG championship in 2015, and whose brother - Treyson - will try to do the same on the Cards' 13-14 boys squad this week.
Bourguet has played flag football since he was 4, and does so today with one of the country's top 7-on-7 teams at Marana High School in Tucson. 
"When we won it all, I called the plays, loved helping kids out and competing. I love helping these girls achieve what they want to achieve," said Bourguet, who wants to pursue a career in coaching. "They're all from our neighborhood, and it's great to see them make memories."
• The B.A.R. Seahawks from Bainbridge Island, Washington, a small island an hour west of Seattle and 3,100 miles from this week's event. The 13-14 boys team, which started four years ago, is making its first nationals appearance.
"It's a huge deal for our community," coach Tom Breen said. "The Seahawks just started our region, so we know there are teams here who had a tougher route, but it's so exciting and we're proud to be here, really looking forward to it."
The 13-14 boys championship will be televised on ESPN and ESPN Deportes, and simulcast on ABC on Sunday as part of the network's broadcast of the Pro Bowl at Camping World Stadium.