Pro Football Hall of Famer Cris Carter delivers his keynote address at today's USA Football 2018 National Conference at Pro Bowl (Photo by Mike Fender)
The USA Football 2018 National Conference at Pro Bowl is officially underway. The event kicked off at noon with the opening of the Vendor Village.
RELATED CONTENT: National Conference 2018: What you need to know
Check out these sights and sounds from Day 1: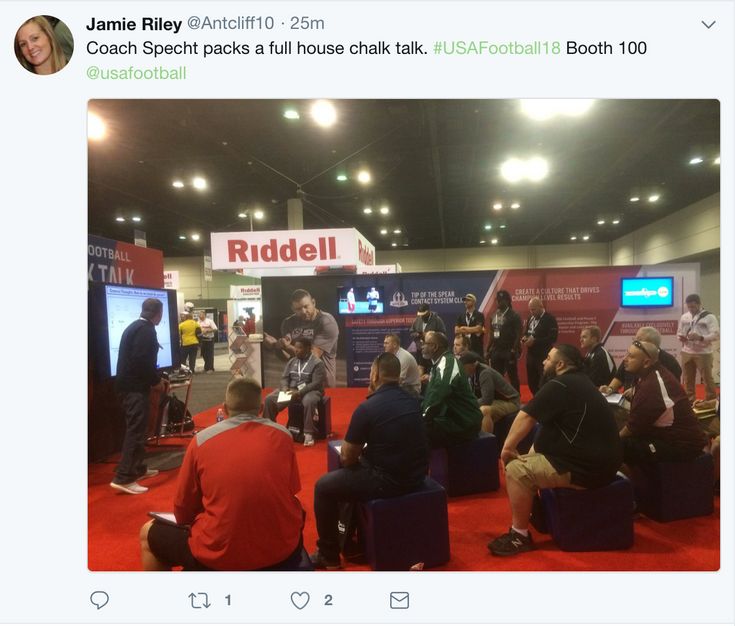 .
.
2:45 p.m
Coaching Work/Life Balance, with former USC/Seattle Seahawks assistant/current minster Rocky Seto
While time demands are as strenuous as ever, maintaining a positive life outside of football is of greater importance for many coaches these days. Seto, married for 14 years and a father of four, said while there's always competition to win, there's another competition to see what's most important in your life.
One personal change he made while with the Seahawks – with head coach Pete Carroll's blessing – was going to work as early as 3 a.m. so he could get home to his family sooner.
"Try to get your work done when your family's not available," Seto said.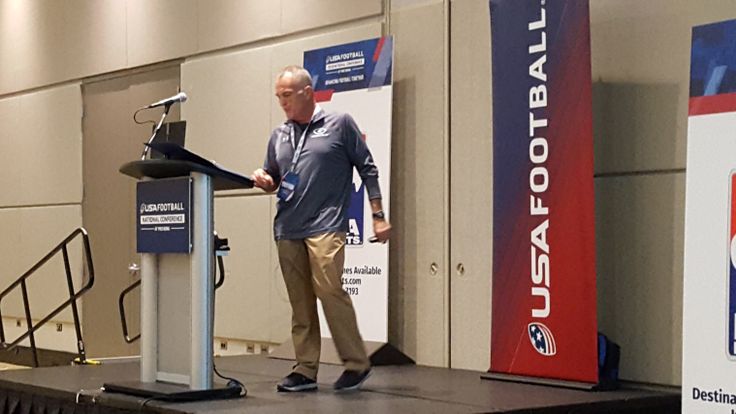 Growing the Game in Your Community
Greenwood (Arkansas) High School coach Rick Jones' job might seem easy on the surface. The Bulldogs have won six state championships during his 14-year tenure, but he does plenty to cultivate it.
During his presentation, Jones listed the myriad ways he engages the community and makes it feel a part of the Greenwood program. 
Maybe the most influential activity is the Fasdogs program, which is a training regimen that's meant for kids in grades 3 through 12, but is welcome to boys, girls and parents. It lasts for four weeks, Monday through Thursday each week.
In addition, senior players open car doors for kindergartners who are being transported to their first day of school; Jones sits in the dunk tank at community events; and they make special needs students feel welcome to take part in the program.
One such student, Brandon Jones (no relation), died of cancer in 2012, seven years after his senior year with the Bulldogs. Jones said the boy's mother, shortly after his funeral, pointed out that his grave faces the football field.
"It means something," Jones said, his voice trembling a bit. "Make it mean something in your community."
3:45 p.m.
Coaching HD, with Bridgewater College Defensive Coordinator Rob Everett
Now in his second year at Bridgewater, Everett discussed how to use technology to enhance mental development. His focus included ongoing evolution in meetings, practices, game prep and tech tools.
Everett is an advocate of digital installation – using a video game-like platform to illustrate packages and assignments in a way players can relate to.
"They can access it with their phones, iPads, any time you can see it in two dimensions," Everett said. "We have made every way of learning possible, to if you can't get this, at some point you have to be the problem."
4:15 p.m.
"Football teaches accountability in a way that no other sport does"
(Photo by Mike Fender)
To kick off the afternoon's keynote address, U.S. Senator Marco Rubio (R-Florida) welcomed National Conference attendees to his home state with a speech that combined his self-deprecating football experiences and his love for the game.
"I belonged in the NFL, but for my lack of size, speed and talent," Rubio told the keynote crowd. 
After that, he delved into his concern for the sport, and his belief in the positive role it plays in the nation as a whole.
"Football teaches accountability in a way that no other sport does," Rubio said. "The work you are doing to encourage people to get into football and play football is about more than saving a sport. The work you are doing to preserve football is critical to the future of the country."
4:40 p.m.
USA Football CEO introduces American Development Model
(Photo by Mike Fender)
USA Football CEO Scott Hallenbeck introduced the assembled keynote crowd to the American Development Model, which focuses on skill development by offering multiple entry points to the game. One year after introducing Rookie Tackle, which features smaller fields, players who try out several positions and no special teams, Hallenbeck unveiled a 9-on-9 version of the game.
It features limited contact, an emphasis on teaching blocking contact skills, soft-shell equipment two 20-minute halves with a running clock and no special teams.
"The thematic about this is advancing football together," Hallenbeck said. "It's all going to be about how we continue to work together."
He encouraged youth and high school organizations to continue to work together, emphasizing that the most successful football communities where the ones where the two factions worked well together.
"We have to set aside egos, set aside other issues," Hallenbeck said. "The high school coach has amazing influence. The youth programs are doing great work. We've got to bridge that gap. We need your help to do it. Please go back to your communities and connect."
NFL Hall of Famer Cris Carter and Pro Football Hall of Fame President and CEO David Baker also spoke to attendees. Here is the full keynote ceremony via Facebook Live:
Brent Glasgow, Scott Goldman and Adam Wire contributed to this report.