The season is in full swing and coaches across the country are meticulously planning their practices and install calendars. Minute-by-minute we analyze each second and try to create the perfect model that will maximize learning, connection and yield the results we seek on the field. In the next few paragraphs, we are going to explore how to create practice expectations that can support your culture, align your coaches, build behaviors that win and have some fun along the way.
II. Then and Now
The game of football has changed. Relationships and culture have become just as important as X's and O's. The million-dollar question of how we meet our players where they are at from an emotional and cognitive perspective is one that coaches work tirelessly to answer. At St. Charles North, we have adopted an experience-based practice model that puts the ownership on both the coaches and players to have a Navy SEAL mentality. The Navy SEALS have a quote: "Under pressure, you don't rise to the occasion, you sink to the level of your training." For our program, we focus on training the whole athlete and teach them to invest, lead and prepare for the three or four minutes in a game that often separate winning and losing.
III. Coaches Role
As the head coach of a program, we are the producer and director of our players' experiences. This ideology does not change on the practice field. The goal at St. Charles North is to create practice experiences that support the behaviors and beliefs that we want to develop in our players. Every day is an opportunity to reinforce the values that we have instilled in our players. As coaches, we must understand and communicate the key objectives both from a football and cultural perspective to all of our key stakeholders. The line of what is acceptable is drawn by us, however, with proper planning, quality instruction and reflection we can empower our coaches, players and parents to help uphold that line and at times even raise it! As I wrote in previous articles, our philosophy is founded on creating behaviors that win. Within these behaviors we will clearly define what it should look like and the outcome we can expect if executed properly. By keeping the foundation consistent, we can show our players how our value system is applicable to all aspects of our training. Each player should be able to see how their contribution to upholding our culture will positively affect the team's practice.
IV. Setting Expectations
Setting expectations is part of the job, but more often than not the expectations that we set are often overlooked and devalued by lack of complete and total buy-in. As I enter my seventh year as a head coach I have found this to be my biggest area of growth. Early on, the expectations that were set were often compromised because of my lack of inner strength. The ability to hold EVERYONE accountable was something that I needed to work on. Having difficult conversations with staff or players is necessary to maintaining the program culture and growing the program into the vision you have set forth. Additionally, at St. Charles North, we have now brought our players into the creative process. We created three tracks of expectations. The first being the obvious coach-to-player expectation, the second focusing on what the players expect out of the coaches and the third are the expectations we will hold our staff accountable to. Below is a list of these expectations. I will highlight a few and go into greater detail on those that have made the biggest impact.
V. Assistant Coaches or Unit Leaders 
Urban Meyer says one of his biggest transformational decisions was when he changed the title of his assistant head coaches to unit leader. The philosophy behind it was while he might have proclaimed and taught the culture, the true essence was lost because his assistants were not building the culture daily. The importance of assistants taking the leadership role of their small group unit is imperative. They can build the culture through their own words but also through the dedicated support to the program's belief. A good place to start is in how they handle the practice planning. At St. Charles North, we have a summer meeting every year in which we clearly lay out the expectations of our staff but also ask for input on how they want to run specific sessions. We walk through our practice plan period by period to ensure the logistics make sense, but also so the coaches can meet their specific practice objectives. We talk specifically about our style of coaching and emphasize that we can all coach differently, but it must align with the program's overall mission and vision.
VI. Players to Parents
I feel it is important to directly connect our parents to our players' experience. Our parents are equal stakeholders in everything we do, and practice is no different. An open-door policy allows parents to attend any workout, film session or practice. We will post our practice plan online so they can see what their child is doing. This transparency allows for open dialogue to occur. Our parents are familiar with our style of practice. It is this understanding that often avoids conflict. Our players ask our parents for unconditional support and to see the big picture. Too often a parent may only get half of the story and not fully see the rationale behind why we make certain decisions. The ability for our players and parents to talk about the big picture can be very powerful.
VII. Tiered-Practice Scaffold
At St. Charles North, we spend a large amount of planning and preparation on creating a tiered-program practice scaffold. We run a five-level program from freshman A/B, sophomore, JV and Varsity. Within these levels we will look at specific variables that occur within a practice and design parameters that we want to adhere to. This will allow us to create an environment that allows players to reach their maximum potential. Below is a deeper look at the variables.
Time: Beginning as a freshman, contact days and total time on the field will be lower than for a sophomore and varsity team member. Each year the investment will increase. We want our players to get acclimated to our program expectations the same way they would with equipment or heat.
Tempo: This refers to the speed of practice segments. We have created a clear expectation of practice speed by issuing one word to each level.

Walkthrough: Non-contact, walking tempo with coach teaching as players go.
Teach Tempo: Slower tempo which allows coach to teach in between plays.
Pace Tempo: Faster tempo that allows coaching to occur on sidelines. Replace players, coach them up and get them back out with no loss of reps.
Ludicrous Speed: Fastest tempo (think one play every 12-15 seconds) where coaching occurs on film evaluation after practice.
VIII. Practice Themes
Every day and corresponding practice will have a daily theme and objective that's communicated very clearly to our players, parents and staff. We will spend time to lay out the belief, behavior and outcome of each theme. Themes allow us to make each day special but can also serve as the foundation of each practice. For example, let's use our Tuesday model. All themes are directly connected to the behaviors we want to elicit. In addition, many of the practice segments will be designed to support the theme of the day, such as music, brain break competitions and connections segments.
Tuesday
Belief: Tempo Tuesday
Behavior: All gas, no brakes
Outcome: Our tempo will exhaust and confuse teams, giving us a significant competitive edge.
IX. Setting the Standards
As we move to the field, it is essential that the standards of how we will move and behave on the football field are clearly stated. In our program, we will take the first practice of every summer to walk our players through the entire plan. We will literally walk through every segment in real time. This allows us to go through drills, movement and equipment usage without the pressure of performance taking away from it. We feel that if our players do not know what the standards of our practice are then we have failed to effectively explain it to them. It is the coach's job to own the standards we have set. The standards we have set are below.
Energy and Tempo: We believe in an up-tempo, fast-paced practice atmosphere. We will do our job, do it well and get off the field. Practices will be run off a segment timer and detailed practice plans. Coaches must learn to be clear, concise and direct with their instruction. We will not stop once we hit the field.
Competitive Excellence: Kids play football because they like to compete, and we must keep that competitive edge sharp throughout the practice week. Any chance we can get to keep a score we will. We have found some fun in playing fantasy football during 7-on - and team segments. Think fantasy scoring but in real life.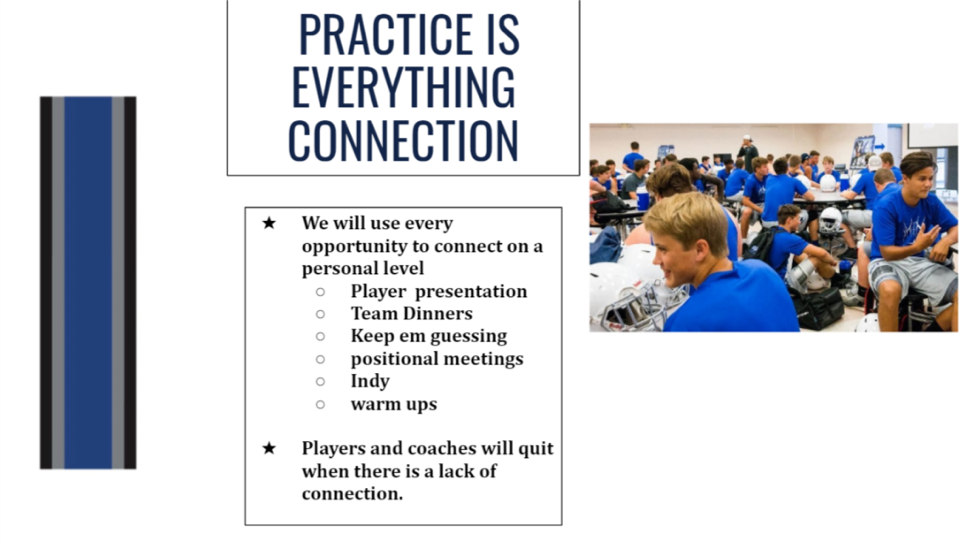 Connection: The ability to form a deep bond and love for each other can only occur when the connection is strong. We create platoons that our players are a part of. These platoons do everything together: outings, conditioning and even a group presentation that they will present in front of the whole program.
Fun: Football is a game and supposed to be fun. We must never lose sight of the goal, which is to give kids an experience they will never forget and have a positive impact on their future as an adult. At St. Charles, we will take five minute breaks in practice to hold "brain break." A coach is designated to create a fun competition that will allow players to rest but highlight some of the program players in a non-football environment. We have done everything from arm wrestling to soccer penalty kicks. Nothing is off limits.
X: Weekly Practice Model
The next step in our programming is to set the week's practice model. Practice models are a hot-button topic these days and everyone has an opinion of what the best model is to use. It is not my job to tell you how much of a workload your kids can handle. All I can say is that you have to find what works for your players and gets them to Friday feeling fast, rested and prepared for victory. At St. Charles North we have adhered to a three-sprint day model. We will monitor our players' reps, workload and impacts using both old-fashioned rep counting, as well as GPS tracking devices on our high volume players. Here is a deeper look at the model we employ.
Monday (90 minutes, non-sprint, red contact)
Monday is foundational day for us, regardless of summer or in season. Consider Monday the basement of the house. Base installs, individual drills and non-negotiable team skills will be put in at a walkthrough and teach tempo. The focus will be more on small group and individual learning with only a small portion of the practice utilizing full group team sessions. Monday is considered a non-sprint day, which means nothing that we do on Monday should have a residual effect on Tuesday's practice.
Tuesday: (Sprint day, 120 minutes, pace tempo, yellow/green)
On Tuesday, we begin to build on the installs from Monday. Added concepts get introduced and tested under increased small group and team segments. We believe in exposing our O/D/SPT to the toughest issues first. We don't want to wait until Friday night to see if our game plan will struggle. Tuesday is considered a sprint day, and the practice will be held in a pace tempo. Some segments will be utilizing teach tempo while others will be pace tempo. Specific segments or plays will used with ludicrous speed to keep both our offense and defense sharp versus an up-tempo team.
 
Wednesday (60-80 minutes, sprint day, ludicrous speed, red contact)
Wednesday is our fastest practice of the week both in time on the field and tempo. Wednesday is all about situations. Final adds to install will be put in and then stress tested during high-intensity team segments. We will only be uppers and girdles on these days to limit the contact. Coaches will then watch film and create the Thursday corrections practice based on needs for that week.
Thursday (60-90 minutes, non-sprint day, pace tempo, red contact)
Thursday is what we call a "corrections practice." At St. Charles North, we do not run the typical walkthrough practice that many teams will run. Our Thursday's are in full pads and the effort per play is fast. However, we will keep a strict limit on total reps for the day. We will run 25 reps on offense and 25 reps on defense, followed by our transitions period that is always on air. A strict point is made to ensure that no player receives more than 15 reps on either side of the ball. Our two-way starters will be monitored and receive no more than 15 total reps. As I said before, this model may not be for everyone but we have found it to be a nice change of structure.
XI. Evaluation/Modification/Remediation
At the end of the day the decision on how you structure your practice time is entirely up to you. The ability to carry your beliefs, behaviors and training onto the practice field is imperative to the success and development of your team. Don't be afraid to try something new. Allow yourself the luxury of failing in practice so that you can win on Friday nights. Each week is separate from the last. We must constantly ask ourselves the questions:
Where are we?
Where are we going?
How do we need to get there?