Those who know Jesse Iwuji are not in the least bit surprised at the incredible heights he has achieved in his life and career. Growing up in Carrollton, Texas, a suburb of the Dallas/Fort Worth Metroplex, Iwuji was a star athlete at Hebron High School. During his junior year, Iwuji was recruited by the U.S. Naval Academy in a move that would forever change his life.
"When I went to a visit to the Academy my junior year, I knew right then and there that this was the place I wanted to be," Iwuji said. "I knew that it would provide me with a lot of great opportunities in life. I would get to serve my country in the Navy, be an officer, get a good education, and play football for a team that was winning. Those were all things that were attractive to me."
Although a linebacker in high school, Iwuji would make the move to free safety for the Midshipmen. During his four-year career at Annapolis, Iwuji and his teammates enjoyed nothing but success on the field. He would take part in four straight bowl games and would go 4-0 against Army and Air Force and win twice against Notre Dame. For Iwuji, playing on such a successful Navy team was the high point of his football career.
"One of my favorite memories is playing against Air Force my sophomore year," he said. "That game I had five or six tackles and I blocked a field goal. That was my best game ever. I had never blocked a field goal before and that helped us win that game. I also loved going to play at Ohio State my senior year and going and winning at Notre Dame. For us though, there is nothing like the Army-Navy Game. It's huge. It's the only college football game on the schedule, so all eyes are on you. There are 80,000 at the stadium and millions watching at home. There's just nothing like it."
As a freshman, Iwuji would get introduced to the world of motorsports. As a freshman, Navy was invited to participate in the Meineke Car Care Bowl in Charlotte, North Carolina. As part of the events during the week, Iwuji and his teammates were allowed to do a ride-along at the Charlotte Motor Speedway. From that point forward, Iwuji was hooked.
"I had a few things happen to me while I was at the Academy that were firsts for me and auto racing," Iwuji said. "One was getting to ride around at the Charlotte Motor Speedway. I had already liked cars but had never really thought much about anything like pursuing it. I made the decision that I wanted to pursue racing full-time in 2014 when I was well into my Navy career though. I'd already been on one deployment and went on a second later that year. I just knew that it was something that I wanted to do."
Iwuji's plan was to juggle both his career in the Navy and a career in auto racing at the same time. While it was extremely difficult, he was at a stage in his naval career where he was transitioning away from sea duty and moving into one of shore duty. He wouldn't be deployed any longer and have more regular hours, which seemed to work perfectly for his aspirations on the track.
"From football to racing, there are a lot of things I was able to take from one sport to the other," Iwuji said. "A lot of people think that racing is just sitting in the car driving and it's not that hard. Well, I try to tell people to imagine turning on your heater on in your car on the hottest day of the year, keep all of your windows up, wear a sweater, long pants and maybe a thermal and a helmet. Now, driving like that, go into an off-ramp as fast you can 200 times in a row! That's basically what we go through on a daily basis."
Since beginning his pro career in 2014 in the Whelan All-American Series, he has steadily worked his way up the pro ladder. He has competed in the NASCAR K&N Pro Series, the NASCAR Camping World Truck Series, and the ARCA Racing Series. In 2017, he was awarded the NASCAR Diverse Driver Award, which is given to exemplifies outstanding performance both on and off the racetrack in encouraging awareness and interaction with NASCAR and motorsports.
"My ultimate goal in racing is to get on the NASCAR Cup Series full-time and race in a position with the equipment and a team that has the caliber to win each and every race," he said. "To be able to do that and put myself into a position where I could go out there and win a championship each year, that's what I want to do in racing and that's what I'm going to keep working toward to make happen."
From his humble beginnings, Iwuji has now accomplished truly remarkable things in every facet of his life. He worked himself into becoming a Division I caliber athlete and then to become a Lieutenant Commander in the United States Navy, and now, has become a professional racecar driver. He's achieved all of this through hard work and sheer force of will. Through it all, he knows he can look back on the life lessons that the game of football has taught him to help him achieve his next goals.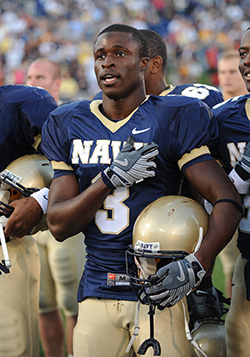 "Nothing in life comes easy, but through a lot of hard work and going through the grind, anything is possible," he said. "I think that's what football really taught me. Things are going to happen in life, good things, bad things, things that keep you down. At the end of the day, you can't be a victim. Nobody cares about your excuses. You just have to go out and work every single day."
Photos are courtesy of Navy Athletics and Jesse Iwuji.