On the football field, Jeremy Staat's playing career was noted for his impressive size and rare athletic ability. Off the field, he has been known for so much more. He became a decorated combat veteran in the United States Marine Corps, a philanthropist who was to raise awareness for his fellow veterans, an educator at his alma mater, and most recently announcing a bid for Congress in his home state of California.
Staat got a late start in football, not playing until his freshman year of high school in Bakersfield, California. He would become a two-sport star – excelling in track and field, as well as football – before going on to play at Bakersfield College for two seasons before going on ultimately to finish his career at Arizona State. While playing for the Sun Devils, Staat would earn the Morris Trophy in 1997, given to the best lineman in the then Pac-10. While playing in Tempe, Staat would be part of a team that was among the best in Arizona State history.
"I don't have any bad memories of my time at Arizona State," Staat said. "That '96 year, we beat Cal to win the Pac-10 Championship and earn a trip to the Rose Bowl and play against Ohio State for the National Championship. The thing that's crazy about that team is how many amazing individuals came off of it, not only as players but as people. Guys like Jake Plummer and Juan Roque and the late Pat Tillman all came off of that team. It was just an amazing group of guys."
In 1998, Staat was taken in the second round of the NFL Draft by the Pittsburgh Steelers. After being released in 2001 by the Seattle Seahawks, Staat seriously considered joining the armed services after the September 11 attacks that year. He was persuaded to play one more season in the NFL to have access to his retirement benefits by Tillman.
"The best thing I can say about Pat and I's relationship is that we were both from the same mold, but from different sides of it," Staat said. "From a political standpoint, we didn't see eye to eye. From a religious standpoint, we didn't see eye to eye. But, when it came down to winning and taking care of our families and honoring our names, we definitely did see eye to eye on that. Pat was always straightforward and honest and if you and he held a differing opinion, you could disagree, but he never held it against you."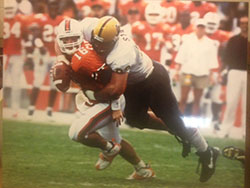 He would ultimately, of course, fulfill that long-ago goal of joining the armed services. In 2006, Staat joined the Marines. He would serve a seven-month tour of Iraq as an infantry machine gunner. Injuries from his playing days and from his duty ultimately caught up with Staat and he left the service after his tenure was completed.
"I'm a third-generation veteran," explained Staat. "My grandfather fought in World War II in the Navy and my Father was in Vietnam in the Army. Service is in my blood. After 9/11 happened, I'd just gotten released from the Seahawks and that experience left a bad taste in my mouth. But once 9/11 happened, I realized there was more to life than just a game. I wanted to join up then, but Pat talked me into getting my benefits. He joined up before I did, but it was always in the back of my mind that this is something I wanted to do. It wasn't easy going in as a 29-year-old guy the size that I was, but it is something I got to do. It was really a calling that I wanted to fulfill."
Looking to give back more, Staat threw himself into charity work, completing his education, and looking for even more ways to give back to his community in Bakersfield. Seeing the often-overlooked value of vocational training and education, Staat accepted a position at Bakersfield College and became a teacher of welding in an effort to help others improve their lives.
"I got to know some kids from some charity work I was doing in detention centers and things like that," Staat said. "We got them to do some physical work, like Marine Corps drills, and I would see these kids working together, no matter what their clique was, and I realized that these weren't bad kids. They were just kids that didn't care about being in a learning environment like school. They wanted to hands-on things. Long story short, when I came back and got my degree, I was talking to people here at Bakersfield College and they told me that I basically didn't need to go out and reinvent the wheel and create a charity program to teach vocational skills. I could come back here and teach and accomplish the same thing, so that's what I did, and I really love it."
It was with the spirit of serving and helping out his fellow veterans that Staat announced he would be running for Congress. This is just the latest endeavor where Staat has been able to rely on one of the main lessons he learned while playing football: the true value of leadership.
"As a husband, father, educator, I think you have to be a really great leader," he said. "I've had some really great coaches over the years who were kind of like father figures and were mentors to me. At the end of the day, it's about being a noble leader, coach, friend, and educator that has moral compass-based integrity and honor. Football helped me become that leader."
Photos are courtesy of Arizona State Athletics and Jeremy Staat.