It felt like normal.
Hundreds of middle school and high school football players gathered on a football field at Iron Peak Sports & Events in Hillsborough Township, New Jersey over the weekend for the U.S. National Team New Jersey Regional.  They were all there to compete for an invitation to training camp in Canton, Ohio this summer for the ultimate opportunity to represent their country at the International Bowl.
For many of these outstanding athletes, it's been a two-year wait to put the red, white and blue back on and show some great college and high school coaches from all over the country what they can do. That's because last year, USA Football had to put the national team program on pause because of the pandemic. For all of the players, coaches and staff, having the program back in place this year has been exciting.
"Football is going to be part of the healing process for our country," said Aaron Ingram, General Manager of the U.S. National Football Team program for USA Football.  "It's America's game in a lot of ways and I think we're going to still do a lot of solving and a lot of healing because of football. It was a good feeling to get back out and see a lot of faces from the start in April all the way through until we finish up in two weeks."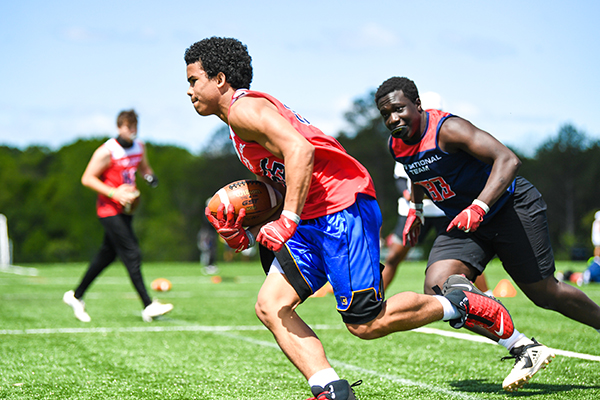 Each year, USA Football generally has two U.S. National Team Training Camps, one at Walsh University in Canton, Ohio and one in Frisco, Texas at the Dallas Cowboys practice facility. While the program is thrilled to be back in business this year, there will be only one mega National Team Training Camp and that will be July 5th - 7th in Canton.
During these challenging times, a little slice of normalcy is certainly better that when the pandemic was at its worst.
"I wish we were going to be in Texas as well as Canton this year but we kind of just said it was the smart thing to do to be just in Canton," said Ingram.  "We've got a great history in the city and the state so we're excited." 
Last year, USA Football was getting ready for the start of the 2020 U.S. National Team Regional schedule when the COVID-19 pandemic forced the cancellation of the Regionals, the National Team Training Camp and the Middle School Bowl Game Series. As our country navigated through the pandemic, the U.S. National Team staff worked tirelessly on planning and developing protocols for when the time came to get back to business on the field. 
"We liked where we were at as a program (before the pandemic)," said Ingram.  "We were riding very high. We were two weeks away from starting when we pulled the plug on March 13th, 2020. That was very hard on our team."
After a highly successful 2019 that saw the program reach new heights, the National Team's core staff of fourteen employees stepped away from their typical duties and did what they could do keep the USA Football/U.S. National Team family engaged with virtual events.
Without events on the field, the staff wanted to make sure that the program wasn't completely out of sight and out of mind to all of the players and coaches.
"We talked about it almost every day," said Ingram. "That was a fear of ours because there are so many people that can't wait to see when our schedule is out, can't wait to hear what we're going to do next year, can't wait to see what the new part of what we're going to do with our program is. That was really important to us because there are so many of them that are young and they're kind of evolving through it." 
In addition to the event in New Jersey, there was also a U.S. National Team Regional this past weekend in Chicago. The final two Regionals will take place on June 5th - 6th in New England and in Nashville, Tennessee.   
How the football landscape across the United States played out over the last year has certainly been something that USA Football has been paying close attention to. 
"So many of these kids are used to growing up in a certain way," said Ingram. "Football in the fall, off-season, spring ball, summer programs and doing it again. I think that's tough to change. We constantly were evolving and watching it. It was changing day by day on us. We tried our best to kind of stay with it and try to pivot as much as we can when we could."
Throughout the last 14 or 15 months, we've heard a lot of politicians and sports executives talk about what things are going to look like post-pandemic.  From the perspective of USA Football and the National Team, it's an ongoing process with COVID meetings along with discussions with the NFL medical board and the United States Olympic & Paralympic Committee. Football, at all levels, has been active through the pandemic, but the U.S. National Team continues to work hard to refine protocols as state guidelines evolve throughout the country. 
"We're still under some protocols now," said Ingram. "I think our country is going to change a lot probably on July 1st is what it kind of looks like. As you see in a lot of states, the mask mandates in the last week have been lifted. We talk about it and we keep evolving making sure we're on the cutting edge and making sure we're going to keep engagement. That's a big deal for us."
This past weekend was a big deal for so many players and coaches as well as the USA Football staff because it's been a long wait to get back on the field. It was refreshing to the coaches get back to doing what they love to do and to see the players working hard to try and reach their ultimate objective of earning a spot on the National Team. 
There was a lot of determination on the faces of the players but there was also that sense of comradery and sharing stories about their seasons. The athletes were all competing for those Training Camp invites, but the weekend was also about seeing familiar faces from past seasons and forging new friendships.
Peter is a sports anchor for the CBS Sports Radio Network and WFAN Radio in New York.  His son Bradley is a freshman in high school and is a participant in the U.S. National Team program while his younger son Jared enjoys playing flag football.   Peter, his wife Sheryl and the boys are busy cheering on the New York Jets when they're not at a high school or flag football field.