Whether you're a football coach or parent, don't wait until the last minute to get what you need for football season. If you purchase now, you'll already be set for the start of practice, while others scramble at the end.
RELATED CONTENT: Prep for the Season: USA Football Rewards by FlipGive makes sports fundraising easy while shopping online
Here's what to look for, with links where to get it:
Equipment checklist for parents
Cutters football gloves
With eye-catching visual designs and state-of-the-art technology, Cutters produces hand protection for optimal on-field performance. With the Rev Pro, Gamer and Force series, regardless of your football position, Cutters has you covered.
RELATED CONTENT: The benefits of wearing football gloves
RELATED CONTENT: Prep for the Season: Why is hydration important for football players to beat the heat?
Shock Doctor mouthguard 
With its USA Flag, Black Camo, Skull and Crossbones, Fang, Money Max, Diamond Plate and team color patterns, Shock Doctor has the mouthguard to fit your style on the gridiron. Cutters' Max AirFlow design is the perfect mix of effectiveness and comfort.
RELATED CONTENT: USA Football Prep for the Season Resource Guide
RELATED CONTENT: Prep for the Season: Watch for summer-long #TackleTubeTuesday football drills series
McDavid protective shirt
Perfect for quarterbacks, wide receivers and running backs, the McDavid HEX Sleeveless Shirt provides additional protection for the ribs, shoulders and spine, and features hDc Moisture Technology, to keep the athlete cool and dry. McDavid also offers ankle and knee braces, athletic supporters, girdles, compression sleeves and more.
RELATED CONTENT: Here's a list of football equipment you can also use in other sports
RELATED CONTENT: 
Equipment checklist for coaches
Riddell football helmets
From the Riddell Victor youth football helmet to the SpeedFlex helmet worn by the U.S. National Team, the company's proud history in football is rooted in the quality and dependability of its products. Once the season is done, send your helmets to Riddell for full reconditioning, so they're ready for next year. 
RELATED CONTENT: Prep for the Season: How Riddell's InSite training tool can help your program monitor head impact exposure, plan practices more efficiently
RELATED CONTENT:  Prep for the Season: Peopletrail partners with USA Football for sports background checks
Shadowman Sports equipment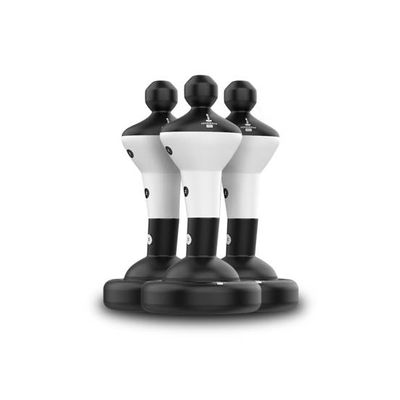 Whether it's the Shadowman Pro (above), Shadowman Junior, Shadowblock or QB Arms, with Shadowman, you can reduce player-to-player contact in practice but still run the drills necessary for improvement and proper execution on game day.
RELATED CONTENT: USA Football 2-Minute Drill with Shadowman Sports: Running game drills
TackleTube
Another effective method to train football players and trim in-practice contact, TackleTube lets athletes perfect tackling technique and timing on non-human targets. Defenders can track and tackle an in-motion tube from any angle, and increase agility in the process. 
Gilman Gear
Gilman Gear features an extensive selection of equipment for football drills, including sleds, dummies, shields, chutes, boards and arches, along with position-specific tools for quarterbacks, running backs and wide receivers.
RELATED CONTENT: Prep for the Season: Gilman Gear brings nearly 90 years of football equipment experience to the practice field
RELATED CONTENT: Prep for the Season: Create the football playbook you need to succeed with FirstDown Playbook
RELATED CONTENT: Prep for the Season: Football jersey ideas from USA Football partners Siege and Badger