When bigger schools come calling every year for your offensive coordinator, you know something is going right. When Mike Norvell took over Memphis in 2016, he brought Chip Long with him to be his offensive coordinator. After finishing No. 15 in the country in points per game, Long was off to Notre Dame. Norvell promoted Darrell Dickey to OC for 2017 and that year the offense finished ranked No. 2 in points per game. Texas A&M came calling. For 2018, Norvell would have to find yet another OC. This time he promoted Kenny Dillingham. The results were predictable. They scored a lot of points, again, and this time it was Auburn who came for Dillingham.
Diving deeper into the numbers Dillingham's offense put up shows us how Memphis supported a capable passing attack with an electrifying run game. The Tigers finished 2018, ranked 76th in Passing S&P+ but 5th in Rushing S&P+. They had the No. 1 most explosive rushing offense in the country.
Watching the film, a few things stand out quickly. The offensive line was dominant. You'd be hard pressed to find a team that consistently has led the NCAA in rushing without a great line and Memphis was no different. They ran a bunch of different schemes from power to outside zone to inside zone split to a couple nice counter and G-schemes. In the passing game, a key play for them in their passing attack was free releasing their running back to the Iso-receiver side for wheel routes. They became masters of the T-wheel play and the quarterback was able to throw the ball back shoulder if the defense played it well enough.
Overall in the running game, Dillinger and Norvell tried to stick with their bread and butter while cycling through the three great running backs they had at their disposal. Darrell Henderson (1909 rushing yards), Patrick Taylor Jr. (1122 rushing yards) and hybrid back Tony Pollard (552 rushing yards with +458 receiving yards).
One of their unique uses of the three backs was how they would swap them out for one another on consecutive plays in their wildcat package. These "on the fly hockey line changes" wore out defenses. Just like how uber-spread vertical option route teams will swap out receivers and run the same plays, Memphis did it with their running backs.
Let's take a look at six consecutive plays in their AAC Championship bout against UCF:
The first play is a Wildcat Outside Zone scheme from a split wing formation with Darrell Henderson taking the snap.
The second play is the same formation and play with Henderson, again, getting free.
RELATED CONTENT: Learning from Memphis - Utilizing the Down-G from the Wing-T
The next play, Tony Pollard lines up in the same formation and runs the same play but with the center folding underneath the guard for another first down.
The fourth straight play is Pollard again running the same scheme, but the guard and tackle can't handle the 1-tech and the play is blown up.
On the fifth play, Patrick Taylor Jr. enters the backfield. This time they line up with actual quarterback Brady White taking the snap and throwing a screen to Taylor.
This type of traditionalist football with a real quarterback taking snaps would not last long. On the next play, there's Patrick Taylor lined up in the Wildcat split wing formation taking the snap and running outside zone.
Here's the entire sequence via the broadcast footage.
RELATED CONTENT: Learning from Memphis - The multiplicity of the Counter concept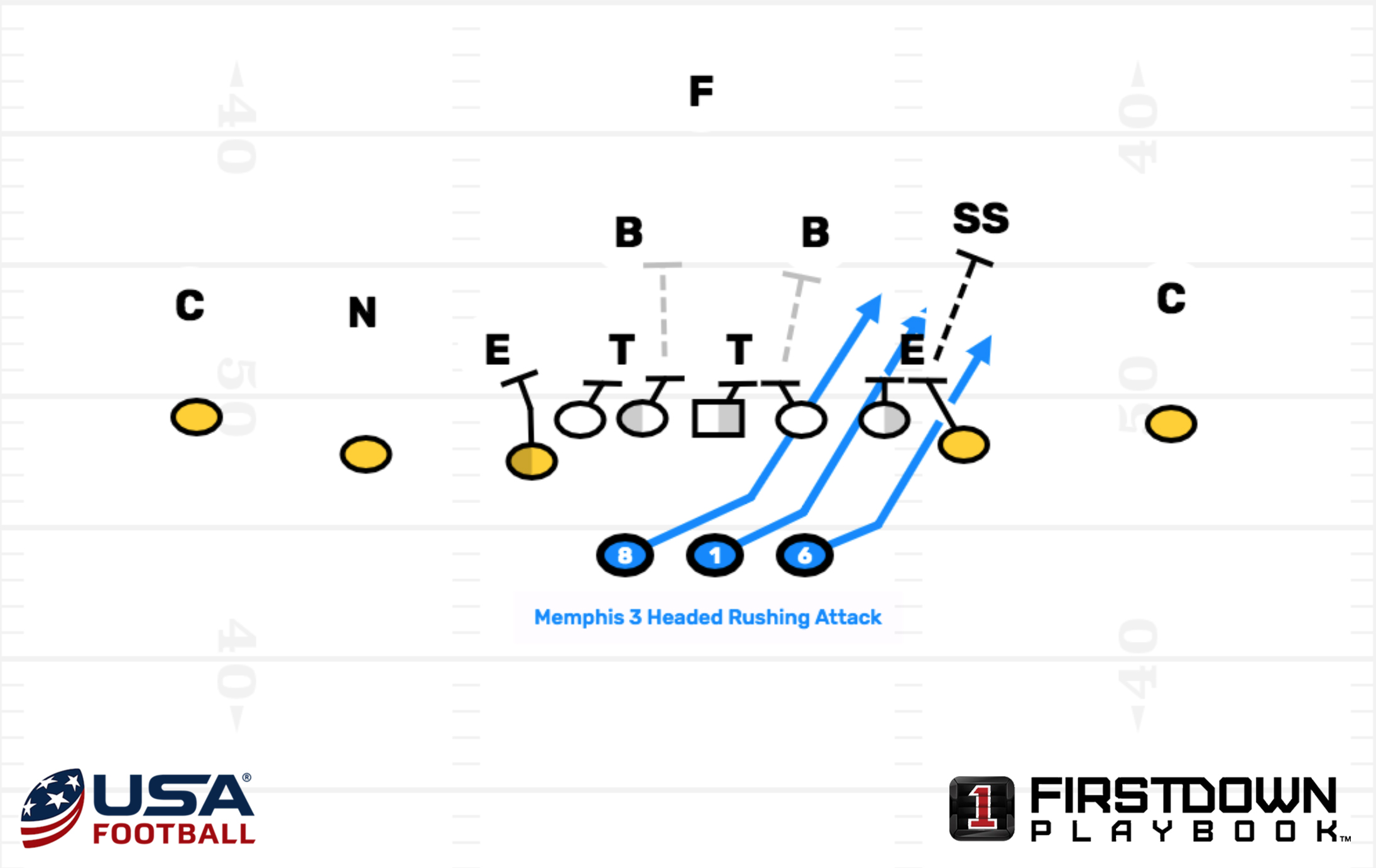 There was a commitment to putting the ball directly in their playmakers' hands throughout the season even on consecutive plays, which gave their rushing attack a never-ending battering ram to run over opposing defenses.
Photo Courtesy: Justin Ford/USA TODAY Sports
USA FOOTBALL CONTACT SYSTEM
NEW LESSONS AND VIDEOS AVAILABLE
Arm yourself or your entire coaching staff with the most effective and sophisticated systematic approach for blocking and defeating blocks, with material for both line and skill position coaches.